Dance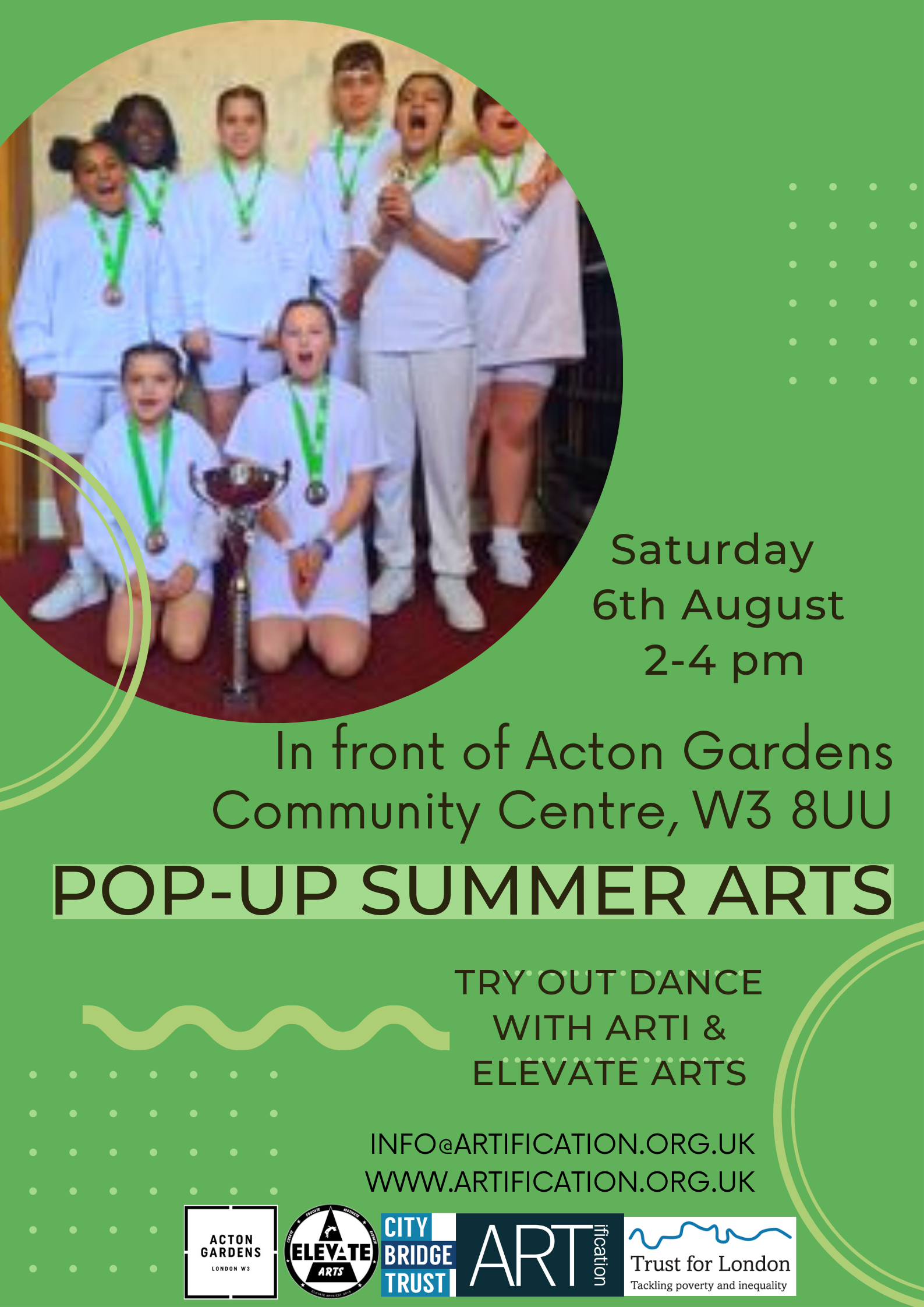 Dance
Contemporary & Street Dance Pop-up
Part of the South Acton Gardens Summer Arts Series.  
Come along on Sat 6th Aug, 2-4 pm, in front of Acton Gardens Community Centre.
Join in with Choreographers Eliza & Lucy from Elevate Arts:
Eliza studied dance performance at Middlesex University & has also 
trained and performed in Greece, Bulgaria and Germany. She is a trained 
dancer in Contemporary and Ballet, including pointe work, Graham, 
Cunningham, Humphrey and release techniques. Eliza's performance 
highlights are for the Queen's birthday at Buckingham palace in 2013 and 
for Hoops Aid1 at the o2 Arena in 2015. In 2015 Eliza also founded her 
own dance company "imprint dancES." Eliza teaches contemporary dance and 
leads workshops in choreography and technique. Eliza has been a highly 
respected and loved member of the Elevate Arts team since the start and 
even delivered virtual classes through lockdown!
Lucy is the founder of Elevate Arts. She has a background in Street 
Dance (Was a member of Lethal Injection and later, RSDC) Lucy also 
studied dance studies at Middlesex University (Contemporary dance) then 
went on to study for a level 4 Street Dance teaching qualification, 
putting her in the top 4% of Street Dance teachers in the country. Her 
performance highlights include performing at the o2 Arena, Move It and 
Hammersmith Apollo. Lucy set up Elevate Arts in 2015, specialising in 
Authentic Street Dance (Breaking, Hip Hop, House, Locking, Popping.) Her 
aim is to inspire & pass on Authentic Street Dance culture to the next 
generation whilst encouraging personal growth & building a sense of 
community.
 
in front of Acton Gardens Community Centre
Munster Court, Bollo Bridge Rd, London W3 8UU
Events organizer
TEL:
Email: